Southern rail: Fears for health and safety on network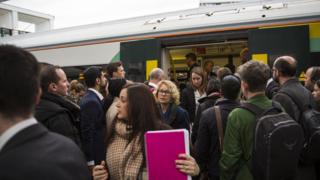 Dangerous overcrowding and "mass panic in crowds" on the Southern rail network are an unacceptable health and safety risk, commuters have warned.
The Association of British Commuters (ABC) said it had been "inundated" with reports, that had reached their peak during the long-running strike action.
It has asked the Department for Transport (DfT) if such risks warranted termination of the franchise.
Southern said its priority was the safety of passengers.
In a statement, the company said it deployed additional staff and queuing systems at the busiest stations on strike days "to help manage passenger numbers".
"When stations do get busy, such as in times of disruption, our staff's priority is to ensure our passengers can get on and off trains safely - which sometimes necessitates holding passengers back from the platform."
ABC said its lawyers had written to the DfT seeking clarity on whether it had conducted any risk analysis in advance of the RMT strikes.
It said incidents had included "violence at Brighton station, dangerous overcrowding and mass panic in crowds, mass rushes along overcrowded platforms to board trains, and a child left abandoned on a platform".
It added there had also been reports of at least two incidents of trains going through planned station stops without stopping.
A statement from the DfT said improving rail services for Southern passengers was a priority.
"We have responded to correspondence from lawyers acting on behalf of the Association of British Commuters," it said.
Meanwhile, the RMT union has announced there will be a national demonstration in support of Southern rail guards fighting changes to their role outside the Houses of Parliament in London on 1 November.
It will be followed by a rally inside Parliament where union leaders, rail campaigners and politicians will speak.
---
RMT strike dates:
00:01 Friday 4 November to 23:59 Saturday 5 November
00:01 Tuesday 22 November to 23:59 Wednesday 23 November
00:01 Tuesday 6 December to 23:59 Thursday 8 December
---