Body in bin: Luton police launch double murder inquiry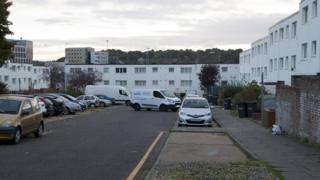 A body found in a bin is being linked with the death of a woman in the same street a week earlier.
A double murder investigation has been launched after the bodies were discovered in Essex Close, Luton, seven days apart.
Bedfordshire Police now believe the man found dead in the bin on Monday is connected to the death of a woman found at a property on 10 October.
A man has been arrested on suspicion of both murders.
Det Insp Fraser Wylie, senior investigating officer, said: "I'd like to appeal for anyone who witnessed any suspicious activity in the vicinity of Essex Close in the last week, in particular over the weekend leading to Monday 10 October."
The arrested man remains in police custody for questioning.
The body of the man was found wrapped in cling film inside a wheelie bin after a passerby used it to move a television set to a nearby flat.
The discovery was made when the man tipped the contents of the bin on to the pavement in Essex Close.
He then continued to use the bin as a trolley, it is believed, before returning and calling police.
Mark Kenny, 52, whose flat overlooks the spot where the bin had been standing, said he saw "a young man at the wheelie bin, who appeared to be taking out rubbish from it".
"He explained that he wanted to use it as a trolley to move a TV set that I could see on a pathway to his flat," said Mr Kenny, who was on his way to the shops.
Anyone with information is asked to contact Bedfordshire Police.