Southern strike: Latest three-day walkout begins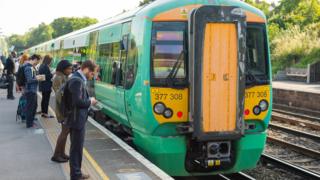 A fresh three-day strike by staff on Southern rail is under way, with hundreds of trains cancelled.
The action is over plans for drivers, rather than conductors, to operate carriage doors at certain times.
It is due to last until Friday morning, with a further three blocks of strikes planned before Christmas.
The train drivers' union Aslef is to ballot members over industrial action after talks with Southern failed to resolve a row over driver-only trains.
Aslef is resisting their introduction, or extension of new driver-only operated routes, on Southern's network without its agreement.
Mick Whelan, general secretary of Aslef, said: "We have genuinely sought to reach a compromise with Southern. The company has not been prepared to negotiate.
"They want to impose, not to discuss. They have dug in their heels and forced us to ballot our members."
Ballot papers will go out on members on 4 November and result is due to be announced two weeks later.
A spokesman for Govia Thameslink Railway, which owns Southern, said: "We are very disappointed that Aslef has decided to ballot its members for industrial action.
"We will now sit down with union officials as quickly as possible to see if we can resolve the issue. If we can't, we'll await the outcome of the drivers' ballot."
'Vicious campaign'
The RMT's latest three-day walkout, has led to the cancellation of hundreds of trains, with further strikes planned in the coming weeks.
The union has said the rail company's plans put passenger safety at risk. Southern has urged the union to "move forward".
Mick Cash, general secretary of the RMT union, said: "Despite a vicious campaign of company lies and dirty tricks, including the spreading of bogus numbers about staff working and an attempt to bribe our members with a £2,000 bounty to sell out on passenger safety, the strike action this morning remains absolutely solid."
He said the guarantee of a second member of staff with a guard on all current services would solve the dispute.
"If that safety guarantee is good enough for Scotland, it is good enough for the South of England."
---
Strike dates announced by the RMT:
00:01 Tuesday 18 October to 23:59 Thursday 20 October
00:01 Thursday 3 November to 23:59 Saturday 5 November
00:01 Tuesday 22 November to 23:59 Wednesday 23 November
00:01 Tuesday 6 December to 23:59 Thursday 8 December
---
But Charles Horton, Govia Thameslink Railway chief executive, claimed modernising the service would be "safe" and provide better service.
"We'll have a second person on board every train that has one now and more," he said.
"By modernising the train service so that drivers have sole control, passengers will get better on-board customer service and fewer delayed trains.
"This method of operation is safe - independent experts agree and a third of the UK's trains have operated this way for over 20 years."
Southern said it plans to run 61% of its normal timetable during the strike, which equates to 1,373 trains.
But the rail company said fans should make alternative plans where possible for getting to and from the Brighton and Hove Albion v Wolverhampton Wanderers match at Falmer, which kicks off at 19:45 BST.
Southern said first-class travel had been declassified across all its services, telling ticket holders they could claim back the difference.
On Monday, Southern told union members a lump sum of £2,000 was back on the table if they end the dispute over conductors.
The money was originally offered if conductors accepted new contracts by 6 October.
However, the RMT said the renewed offer was a bribe and did not move the dispute on "a single inch".
What questions do you have about Southern Rail?