Rare Spitfire 'almost crashed' after RAF Cosford Air Show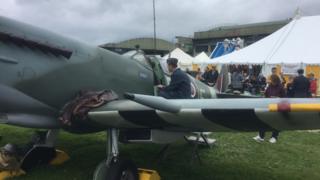 One of a small number of Spitfires still deemed airworthy almost crashed with another plane while heading back from an air show, it has been revealed.
The vintage plane was just 100ft from a Grob 115 light aircraft while flying above Wolverhampton on June 19.
Earlier, the Spitfire had been taking part in a display at the RAF Cosford Air Show in Shropshire.
The near miss received the second highest risk category by the UK Airprox Board (UKAB).
'Very close'
The report said the pilot was "late" in spotting the light aircraft ahead of him and had to take evasive action.
He told investigators the two planes would have been "very close indeed" if he had continued on his original path and assessed the risk of collision as "high". The light aircraft pilot was unaware of the Spitfire.
The UKAB report said: "This was a salutary lesson on the importance of maintaining a robust look-out in Class G (uncontrolled) airspace at all times, where 'see and avoid' is the main mitigation against mid-air collision."
It added: "The board determined that the cause of the incident had been a late sighting by the Spitfire pilot and a non-sighting by the Grob pilot."
The RAF Cosford Air Show welcomed thousands of guests to its Shropshire base in June.
The Spitfire took part in a memorial flight in honour of the Battle of Britain from World War Two prior to the near miss.
There are only believed to be around 30 airworthy Spitfires left in the UK.