Charity run in aid of Joel Richards raises £27,000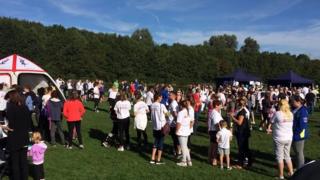 More than £27,000 has been raised after a charity run in memory of a man killed in a terror attack in Tunisia.
The event at Sandwell Valley Country Park, West Bromwich, was held after Joel Richards, 19, died near Sousse alongside his uncle and grandfather.
Mr Richards, from Wednesbury, was a referee and student at the University of Worcester.
Money was raised for the Victim Support charity after more than 1,000 people took part in the 11 September event.
Read more news for Birmingham and the Black Country
Mr Richards' mother Suzy Evans said she was "overwhelmed" by the amount raised following the 5k and 3k runs.
She said: "He would be smiling from ear to ear and he would just love the fact that we all came together and celebrated and remembered everybody that didn't come home.
"I'm sure he would have loved it and he would have loved seeing so many people doing the run. He was all about fitness."
Mr Richards, a Walsall FC fan, died alongside his uncle Adrian Evans, grandfather Patrick Evans and 35 others in terror attacks near Sousse.
Walsall manager Jon Whitney took part in one of the two runs that were held last month.