Paddleboarder rescued seven miles from English Channel coastline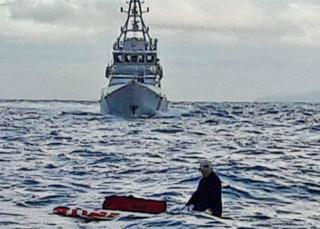 A paddleboarder wearing just a hat, fleece and shorts was rescued seven miles from the English Channel coastline.
The man, an EU national who has not been named, was spotted by divers off the coast of Dover at dawn on Sunday.
A Home Office spokesman said the man had become disorientated on his paddleboard.
He said: "The man was a German tourist in distress, but who was in the country legally."
He added: "He was not an illegal immigrant.
"He had been on the water for some time, having gone out on his paddleboard, and was picked up by HMC Valiant."