Two arrested over 24 people found in freezer lorry on M25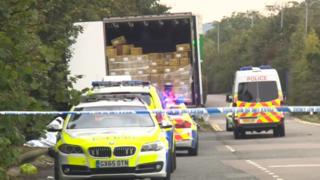 Two men have been arrested on suspicion of human trafficking after 24 people were found in the back of a freezer lorry on the M25.
Surrey Police said 23 adults and one child were found in the lorry, which was stopped on the clockwise carriageway at junction 11.
The vehicle was escorted to Addlestone Fire Station, where the suspected migrants were assessed by paramedics.
One person inside the lorry was taken to hospital.
A police spokeswoman said the investigation would be passed to UK Visas and Immigration officers.
It comes four days after 15 suspected illegal immigrants were found in a freezer lorry chilled to -25C on the M25 at Clacket Lane services.
The people found on Friday, who included several teenagers, were detained on suspicion of illegal entry.