Police release image of toddler-carrying suspect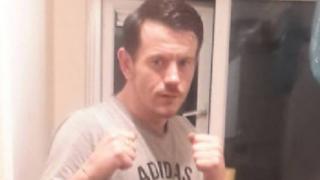 Police have released a picture of a man suspected of carrying a toddler to help trick his way into the home of a partially-sighted woman.
Francis Maughan, 31, is accused of stealing a purse from the 90 year old's home in Rubery, near Bromsgrove, on September 20.
He is also suspected of being involved in a break-in at Frankley Beeches Road, Northfield, on 21 September.
Two men claiming to be police officers took valuables from inside.
Police said two people have also been arrested in connection with a string of thefts in south Birmingham.
A 46-year-old man and a 29-year-old woman, from Weoley Castle, are being questioned over 10 incidents where thieves tricked their way into elderly people's homes and one where an 81-year-old man had several thousand pounds stolen from him as he left a bank in Selly Oak, on 6 September.
Anyone who knows the whereabouts of Mr Maughan should contact police or Crimestoppers.