RMT makes official complaint over Southern rail tweet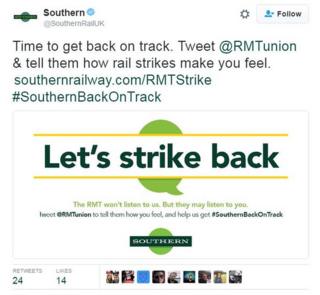 The RMT union, which is embroiled in a bitter dispute with Southern Railway, says it is to make an official complaint to Twitter.
It follows a tweet by the rail firm encouraging its passengers to post messages to the union saying how they feel about on-going strike action.
Southern also took out newspaper adverts headlined Let's Strike Back and including the RMT's twitter details.
Most people who responded criticised the company rather than the union.
Southern said on Monday its aim had been "to get the debate going".
The RMT said it believed the advert amounted to "targeted harassment", which contravened Twitter's regulations.
'Incompetent management'
On Monday Southern tweeted: "Time to get back on track. Tweet @RMTunion & tell them how rail strikes make you feel."
Dozens of passengers immediately responded, including Marianne Powell who tweeted: "You brought this on yourselves. We, your customers are suffering."
Another passenger, Simon Cox, posted: "I dislike unions but I dislike incompetent management more."
Commenting on Southern's message, Another Angry Woman tweeted: "Strongly recommend you read this thread, @SouthernRailUK bc the problems are on you."
The next planned strike announced by the RMT is between 00:01 BST Tuesday 11 October and 23:59 BST Thursday 13 October.
Months of industrial action by the RMT and high levels of staff sickness have hit Southern's services, which link London with Surrey, Sussex, Kent and Hampshire.
Last month the RMT announced 14 days of strike action in the long-running dispute over the role of conductors on trains.
On Monday Southern offered conductors a lump sum of £2,000 in a bid to bring industrial action to an end.
---
Responses to Southern's tweet
---
---