Safety work 'needed on dangerous A34 road', campaigners say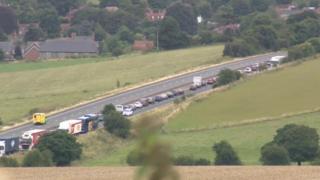 A road where five people and an unborn child were killed in a month needs major safety changes, campaigners say.
The stretch of the A34 between Hampshire and Oxfordshire saw two crashes claim the six lives - including four children - in August.
Now MPs, councillors and residents are calling for Highways England, which is responsible for the road, to implement measures like average speed cameras.
Highways England said it would carefully consider suggestions.
'Dangerous economic spine'
The A34 Community Action Group, set up after an eight-vehicle crash that left a mother and three children dead, is calling for measures like crawler lanes for heavy goods vehicles (HGVs) and 50mph (80kmh) average speed cameras to be considered.
Fatal crashes on A34
10 August 2016: Mother Tracey Houghton dies alongside her two sons Ethan and Josh, and her stepdaughter Aimee Goldsmith after an eight-vehicle crash on the A34, between Chieveley and East Ilsley. Tomasz Kroker, 30, of Trajan Walk, Andover, accused of four counts of causing death by dangerous driving and one of causing serious injury by dangerous driving
Oxfordshire county councillor Stewart Lilly said: "There've been 800 accidents [over five years] in Oxfordshire alone.
"Doing nothing is not an option, the government needs to invest in infrastructure, like we're investing in the local economy.
"It's an economic spine, but it's a dangerous economic spine."
Newbury MP Richard Benyon said he would lobby the Department for Transport to make improvements on the section of the A34 a priority.
'Safety a top priority'
He said: "It's the main route that links the Southampton container depot to the industrial heartlands of the midlands and the north.
"It is a serious problem, not just in the accidents that have taken place, but also what it is doing to our economy."
A Highways England spokesman said: "Safety is our top priority and we look forward to hearing the ideas of Oxfordshire County Council and other bodies including the police. We will carefully consider any suggestions that are made."
The body, which maintains major roads and motorways across the country, added it has commissioned a number of studies into fatal collisions on the road.