Boy waits five days for Farnborough hospital to diagnose a broken arm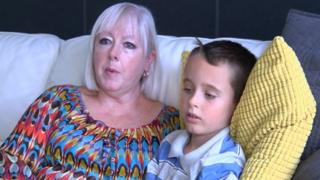 A company which provides NHS urgent care services is to investigate after a boy had to wait five days to be told his arm was broken.
Harry Pockett, aged seven, was taken to the Princess Royal University Hospital in Farnborough, south-east London, on 24 September when he injured the arm.
The family said they were told there was no-one on duty senior enough on duty to confirm it was broken.
Greenbrook, which runs the Urgent Care Centre (UCC), has apologised.
Harry's grandmother, Kim Edwards, said he told staff he knew the arm was broken because he had suffered a similar injury before, but they sent him home in a splint.
"On the Sunday night he was really really distressed about the pain in his arm," said Ms Edwards, from Otford, Kent.
Harry was taken back to the care centre on Monday and then called at home on Wednesday and told to return, when the break was diagnosed and the arm was put in a plaster cast.
The Princess Royal directs patients with simple fractures to the UCC, not Accident and Emergency.
Greenbrook said it had spoken to Harry's mother and assured her it had started a full investigation.
"We are sorry for any additional distress that we may have caused her son or herself," it said in a statement.
It said all its staff were fully trained to manage injuries such as fractures, interpret x-rays and determine what initial treatment was needed.
Greenbrook added that splinting is a normal practice when there is swelling involved, and it believed the family had misunderstood the procedure.