Police hunt on the run convicted killer Mark Ryder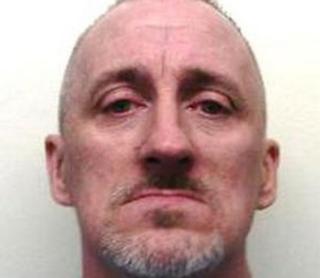 A convicted murderer, who escaped from jail twice, is being sought by police after he vanished from a bail hostel.
Mark Ryder, 46, shot love rival Stuart McCue in Brighton in 1993, in front of the victim's girlfriend, two teenage nieces and another two children.
He was released on licence earlier this year and reported missing from a hostel in Greater Manchester over the weekend.
Police are advising people not to approach Ryder, who has a faded tattoo of a cross on his forehead.
He was on the run from Lewes prison, where he had been serving a sentence for theft, when he shot Mr McCue.
'Love' and 'Hate' tattoos
Twelve years into a 15-year sentence for murder he went on the run again after escaping prison guards while on an escorted trip to a Cambridge shopping centre.
He was eventually caught in Malaga, Spain, and returned to the UK.
At the time of his sentence, Ryder had the words "Love" tattooed on the knuckles on his left hand and "Hate" on his right.
On his left arm he had a tattoo of a dagger through a skull and crossbones with a scroll stating "All or Nothing Anna".
Any member of the public who sees him is advised not to approach him but to call 999.
Hertfordshire Police, which is leading national appeals to find Ryder, said he had links in Brighton, Sussex and Greater Manchester.