Red Arrows on 60-day 'Best of British' tour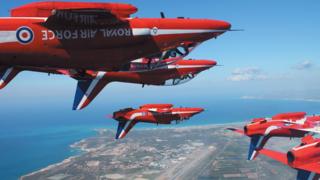 The Red Arrows are taking part in a 60-day tour to promote the "Best of British".
They will begin with a fly past in Amman, Jordan, and go on to include displays in India, and at the Abu Dhabi Formula One Grand Prix.
The programme includes visits to 12 countries, including the Red Arrows' first display in China.
Sqd Ldr David Montenegro said he was looking forward to performing in front of a new audience.
He said it was a privilege to represent the UK and be part of the first Reds display in China.
Air Chief Marshal Sir Stephen Hillier, the chief of Air Staff, said the plans had been in development since 2014.
He said: "Everyone knows the Red Arrows and we are sending that message out to the Asia-Pacific region, a region which we have not previously been to."
---
History of the Red Arrows
The RAF had several aerobatic display teams in the 1950s and 1960s, but decided to disband them and form a single, full-time professional team
The name Red Arrows was chosen to combine the appeal and expertise of two earlier teams, the Black Arrows and the Red Pelicans
The team was founded in 1965 at RAF Fairford in Gloucestershire
Since its formation, the team has performed more than 4,500 displays in 56 countries, including a recent first display in Kuwait.