Southern passengers' legal action fund close to £18k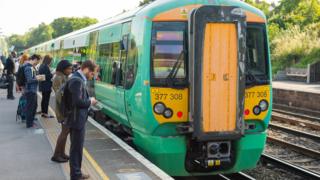 More than 900 passengers have given money to support a legal case challenging the government's handling of the Southern rail franchise.
The Association of British Commuters has raised almost £18,000 towards a target of £25,000 to seek a judicial review of the contract award.
Services have been disrupted for months because of a union dispute over the role of conductors and staff shortages.
Commuters are facing 14 days of strikes from October to December.
The commuter group's crowdfunding page says it is "challenging the government's handling of the Southern rail crisis, which has caused massive disruption to our family lives, our livelihoods, and our health and safety".
'Failure to engage'
Lawyers acting for the group have written to the Department for Transport requesting documents about the agreement with Southern owners, Govia Thameslink. The group said its requests had not been granted.
A statement said it was "delighted" with the public response but "disappointed" with the government's "failure to engage".
It added: "We have asked the most straightforward of questions and have been met, firstly with two weeks of silence, and now with a further delay whilst they consider whether to lift the lid on the franchise.
"This conduct just underlines the fact that judicial review is the only option available to us."
Emily Yates, campaign co-ordinator for the group, said the public urgently needed to see the documents "considering the catastrophic state of rail travel in the South".
She added: "It is hard to understand why they cannot be transparent about their dealings with a private company that is failing on such an unprecedented scale."
The Department for Transport has declined to comment.