Homecoming Henley parade for Team GB Olympic rowers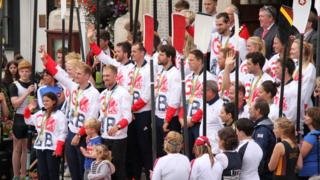 Members of the British Olympic rowing team paraded through Henley-on-Thames to celebrate their Rio 2016 success.
Hundreds of fans flocked to the town on the Berkshire and Oxfordshire border to celebrate the three gold and two silver medals won by Team GB crews.
The Heroes Return event was organised by the Leander Club, the home club of many of the team.
The team took part in a row past on the Thames and an open-top bus tour through the town.
Listen again: BBC Radio Berkshire coverage of the Heroes Return
Gold medallist from the men's coxed eight, Matt Langridge, said: "It was brilliant, especially being in Henley.
"This is the place we all live, this is where we train most of the time. It's great to see so many people and all the support.
"This is our opportunity to let our hair down and thank everyone, the support we received in Rio was incredible."
---
Team GB Rowing Medal Winners
Men's Eight (Scott Durant, Paul Bennett, Matt Gotrel, Andrew Triggs-Hodge, Matt Langridge, Tom Ransley, Pete Reed, William Satch and cox Phelan Hill) - Gold
Men's Four (Alex Gregory, Mohamed Sbihi, George Nash and Constantine Louloudis) - Gold
Women's Pair (Heather Stanning and Helen Glover) - Gold
Women's Eight (Katie Greves, Melanie Wilson, Frances Houghton, Polly Swann, Jessica Eddie, Olivia Carnegie-Brown, Karen Bennett, Zoe Lee and cox Zoe de Toledo) - Silver
Women's Double Sculls (Vicky Thornley, and Katherine Grainger) - Silver
---