M40 in Oxfordshire and Buckinghamshire sound reduction work begins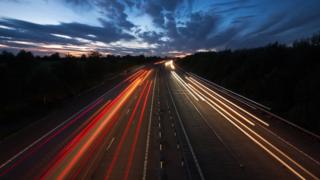 A major resurfacing project to reduce sound pollution on large stretches of the M40 has begun.
Noise-reducing barriers will be installed along sections in Buckinghamshire, and a worn out section in south Oxfordshire will be replaced.
Highways England said it would "significantly contribute to reducing noise and improving the quality of life for residents".
The project is expected to be completed by Christmas.
A temporary 50mph speed limit is in place.
Highways England is targeting noise pollution between Loudwater (near Junction 3) and Wheatley (near Junction 8).
Noise barriers will be set up near High Wycombe, and Lane End, Stokenchurch and Chepping Wycombe villages.
Resurfacing takes place along a 4.3 mile (7km) stretch between Adwell (near Junction 6) and the A40 Oxford spur (at Junction 8).
The company developed the proposals with the M40 Chiltern Environmental Group (M40 CEG), Wycombe District Council and South Oxfordshire District Council.
Project manager Mark Saunders said: "We have been working hard with our partners to help residents along the M40 affected by noise.... I would like to pay tribute to [their] passion and commitment."
'Great anger'
M40 CEG president Lord Parmoor said: "After 12 years of work... we are really pleased by this substantial step to mitigate noise nuisance for the majority of residents."
While Highways England said work was being carried out in places where it would "make the most difference" some residents had suggested other places along the route also required work.
Peter Tinson, chairman of Aston Rowant Parish Council, said there was a "great deal of anger" that communities in Aston Rowant, Lewknor and Postcombe were being neglected.
"This anger is particularly acute in Postcombe where residents can see the work but won't benefit from it," he added.