Councils split on plan for North East devolution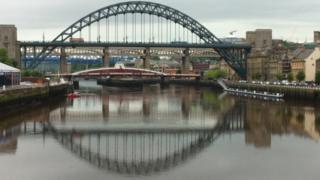 Plans for a North East regional mayor have been put on hold after local authorities expressed fears over post-Brexit funding from the government.
Four of seven councils that make up the North East Combined Authority (NECA) voted not to press ahead with plan.
The decision prompted fresh warnings that the region could miss out on up to £900m of new investment.
A government spokesman described the move as "disappointing", but said the door "remained open" for further talks.
Sunderland, Durham, Gateshead and South Tyneside councils voted against moving forward with the devolution plan, claiming they were not satisfied with reassurances over funding following the UK's decision to leave the European Union.
Newcastle, North Tyneside and Northumberland councils said they remain committed to the plan.
'Best efforts'
Elections for directly-elected mayors are due to be held in a number of areas of England in May 2017.
The deal is part of the government's Northern Powerhouse programme to help northern towns and cities compete with those in the south for investment.
The region had been promised £30m in government funding for the next 30 years, as well as new powers on transport, skills and training.
Paul Watson, Sunderland City Council leader and NECA chair, said: "Following the outcome of the EU referendum and the subsequent changes within government, council leaders have been equally clear that to move forward, the new government must provide assurances regarding the terms of the region's devolution deal.
"Extensive discussions and negotiations have taken place with government over recent months, but despite our best efforts, it has not been possible to reach an agreement which all of the seven local authorities feel able to support."
The Department for Communities and Local Government said: "It is disappointing that some North East councils have been unwilling to support this deal, which would certainly have benefitted local people.
"If councils in the region wish to discuss devolution proposals further, our door remains open."