Gatwick runway reopens after 'small indentation' found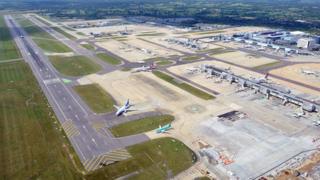 The main runway at Gatwick Airport was closed after a "small indentation" was discovered on its surface.
About 10 aircraft were diverted after the airport was forced to open its alternative runway at around 19.40 BST on Sunday.
The closure was a "precautionary measure" following a regular maintenance check, a spokeswoman said.
Several flights were also delayed due to the closure, which lasted until 21:46 BST.
The airport said: "We would like to apologise to any passengers impacted by this but the safety of our passengers is our number one priority.
"We are working hard to resume our normal schedule."
Gatwick is a single-runway airport, but has a second runway which is only used when the main runway is unavailable.