Australia backpacker stabbing: Mia Ayliffe-Chung was 'amazing young woman'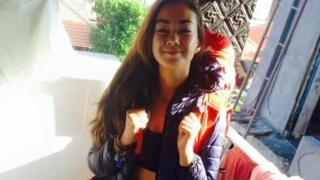 The family of a British backpacker stabbed to death in Australia have paid tribute to an "amazing young woman with an adventurous spirit".
Mia Ayliffe-Chung, from Derbyshire, was attacked at a hostel in Queensland by a man allegedly shouting "Allahu Akbar", Arabic for God is great.
The 20-year-old's family said she was "a rare person who saw beyond race, creed and belief".
They said she would not have wanted to be the reason for "any hostilities".
Police are treating the incident as murder, not a terror attack.
The statement, on behalf of Mia's mother Rosie Ayliffe, was read out by her partner Stewart Cormack.
Speaking from Cromford in Derbyshire, Mr Cormack said: "Mia was full of the kind of open-minded compassion for life that you don't see that often. It felt as though she was reminding us all of the beauty and possibilities we each have that we should live life to the full.
"Mia was a rare person who saw beyond race, creed and belief. She would always treat others with dignity, respect and kindness.
"As a peaceful person Mia had huge respect for everybody. She would not want to be the reason for any hostilities caused by any misrepresentations of the events."
A 30-year-old British man - named locally as Tom Jackson from Congleton in Cheshire - was severely injured in the attack and remains in hospital in a critical condition.
It happened at Shelley's Backpackers accommodation in the Home Hill area of Queensland at about 23:15 local time on Tuesday.
Another man - a 46-year-old named by a friend as Grant Scholz, who ran the hostel - received non-life threatening injuries and has since been released from hospital.
A dog at the accommodation complex was also killed.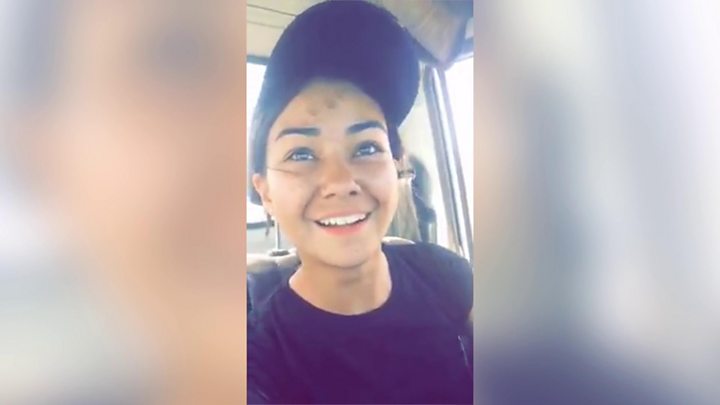 Queensland Police have arrested a 29-year-old French national, who was taken to hospital with non life-threatening injuries.
Deputy Commissioner Steve Gollschewski said the attacker appeared to have acted alone.
"This is not about race or religion. It is individual criminal behaviour," he said.
He said police were aware of the alleged comments of an "extremist nature", but were investigating several possible motivations, including mental health issues and drug misuse.
Officers have retrieved a knife thought to be the weapon used in the stabbing.
Miss Ayliffe-Chung had lived in Surfers Paradise, on Australia's Gold Coast, and worked as a waitress at the Bedroom Lounge Bar before making an 800-mile trip north to work with animals on a farm.
She was just days into the three-month trip when she was killed.
Her latest Facebook update was on August 20, four days after starting work on the farm.
---
Profile: Mia Ayliffe-Chung
Mia Ayliffe-Chung, from Wirksworth in Derbyshire, went to Anthony Gell School in Wirksworth before going to Chesterfield College to study psychology and communication and culture.
She later went to Buxton and Leek College to study childcare.
It is understood she travelled to Bali before arriving in Australia.
Paul Lovatt, head of pastoral care at Anthony Gell School in Wirksworth, remembered her as "enriching the school environment".
"We knew Mia as a student with so much joy and energy who was well-liked by her friends and teachers," he said.
"She joined our school in Year 9 and flourished here, both in making strong friendships and in achieving high-level GCSEs."
Rachel McVeigh, curriculum leader for education and childcare at Buxton and Leek College, said: "Mia had a zest for life and was free-spirited, with a keen desire to travel.
"We are devastated and extremely sorry to hear such tragic news. Our thoughts are with her family and friends."
---
Jamison Stead, who had been in a relationship with Miss Ayliffe-Chung, remembered her as a "beautiful soul" who had "fallen in love with the country and its people".
"She was a beautiful girl who had her whole life ahead of her and we spoke of what the future may hold in store for her and what she wanted to do," he said.
"It's sad knowing that she won't be able to do those things."
Mr Stead said they met towards the end of April through friends in Surfers Paradise but had recently split up.
"She was living in Surfers on the Gold Coast and planning on exploring Australia, with the intention to find a sponsorship as she wanted to stay here as she had fallen in love with the country and its people," he said.
"I can't quite get my head around what's happened. Truly devastated, more just disbelief that this has happened."
---
Were you in the area at the time of the attack? If you are willing to speak to a BBC journalist you can get in touch with us in the following ways: