Wheatley Park School headteacher blasts 'segregation' at grammar schools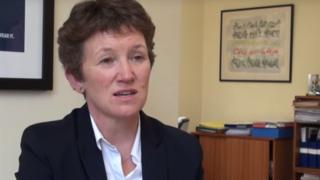 The headteacher of Theresa May's old school, which was a grammar school in the Prime Minister's time, has said making more would be a "big mistake".
The Sunday Telegraph said the PM was planning to scrap the ban on grammar schools to boost "social mobility".
Kate Curtis at Wheatley Park School in Oxfordshire said young people would miss out if they were "segregated".
Melinda Tilley, from Oxfordshire County Council, said there was "nothing wrong" with selection.
Education Secretary Justine Greening has previously said she is "open minded" on the issue.
Wheatley Park School became a comprehensive school during Mrs May's time there.
Ms Curtis said it would be bad idea to "go down the road of segregating, of selecting and identifying" children at the age of 11 because it would be "very damaging for those that are outside the grammar school system".
She added: "It's an arbitrary age in which to select.
"In some ways it's too late because for those that are really disadvantaged, and in another it's too young because you don't know what their future growth and development might be."
Mrs May is thought to be a supporter of new selective schools and has previously backed a grammar school's proposal to open a new "annexe" in her Maidenhead constituency.
'Gifted pupils let down'
Ms Tilley said gifted and talented children were being let down by the current ban on new grammar schools.
"People say we must do more to help pupils with special educational needs, but no-one says we should do more for the gifted and talented," she said.
"We are letting down a whole group of young people."
There are currently 163 grammar schools in England - out of about 3,000 state secondaries.
Under a law introduced in 1998, no new grammar schools are allowed to open in England.