Police call handler hung up on rape victim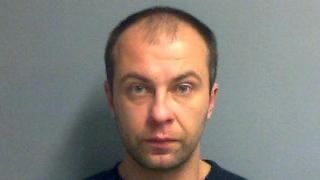 A police call handler has been sacked after hanging up on a "vulnerable" woman asking for help who was later raped.
Gail Daniels-Ekarte spent five-and-a-half minutes talking to a 999 caller from Oxford who said she was in danger, but did not send any officers to help her.
She has now been dismissed without notice for gross misconduct.
A senior officer said her conduct fell "very far below" the standard expected.
The call was made to Thames Valley Police's Milton Keynes control room in December 2013.
A misconduct hearing was told that Ms Daniels-Ekarte ended the call without deploying anyone, and later that day a further call reported the woman had been raped.
'Clear call for help'
Zilvinas Ruzgas, 40, of Odessa Road, London, was subsequently convicted of rape and jailed for seven years.
A police spokesman said the woman had been "vulnerable" at the time and the misconduct hearing was a result of the force referring the case to the Independent Police Complaints Commission.
Ms Daniels-Ekarte has a right to appeal the decision.
Assistant chief constable Dave Hardcastle said she "failed to respond appropriately to what was a clear call for help from a member of the public".
He said: "At Thames Valley Police we expect the highest of standards from our staff and officers.
"Sadly the individual's actions in this case fell very far below the standard of what we expect."