Severn Trent to compensate over burst water pipe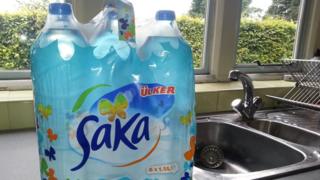 Residents affected by a burst water pipe which left some without water for three days will be compensated, the supplier has said.
At least 40 homes in Long Compton and Shipston-on-Stour were without water on Monday - three days after the burst.
Sarah Jane O'Kane, of Severn Trent Water, said customers would be credited depending on how long their supply had been cut.
One resident said he had been using garden pond water to flush his toilet.
Another tweeted the company to say they had no water for their baby's bottles.
'Intermittent water'
Ms O'Kane said the burst pipe in Banbury on Friday affected the postcode areas CV36, OX15 and GL56, causing people to have no water supply or poor pressure.
She said: "The burst pipe led to air getting into the pipe network and as the air has travelled through the system, this has led to further issues and further bursts.
"This has meant that unfortunately some customers have had an intermittent water supply as we've dealt with each issue in turn," she said.
She said the water supply had resumed for "everyone in Long Compton" by Monday afternoon, but there was still some homes in Shipston without water.
Customers did not have to contact the firm which would automatically credit customers affected, she added.