Burst pipe cuts Long Compton water supply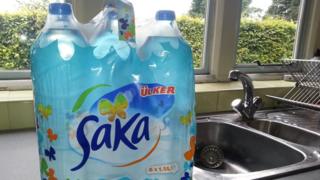 A burst water pipe left most of a village without water for more than 36 hours, residents have claimed.
Ed Macalister-Smith has been using pond water from his garden to flush a toilet since the supply to Long Compton, Warwickshire was disrupted on Saturday.
"We are lucky to be healthy but quite a lot of elderly people here are struggling," he said.
Severn Trent Water said a burst pipe in Banbury led to "further bursts", but it had restored supplies to most people.
A spokeswoman for the company, which has been delivering bottled water to customers, said the initial fault affected postcode areas - CV36, OX15 and GL56, causing people to have no water supply or poor pressure.
"We've managed to get the majority of customers back on supply but we know some people in the Long Compton and Shipston-on-Stour areas are still without water," she said.
Teams were working "round the clock" to resolve the issue, including bringing in water into the area in tankers, she added.
Mr Macalister-Smith said his Long Compton home had been without water apart from "a brief period" on Sunday night and the situation had been "unpleasant and uncomfortable", particularly on one of the hottest weekends of the year.
His neighbour Robert Maguire had called Severn Trent's call centre about every two hours on Saturday and said while staff were "perfectly polite", he had been frustrated about the lack of information shared within the company.
"I had to tell them the supply had gone off again on Monday as they didn't know," he said.