Norton Priory: Museum reopens on monastery site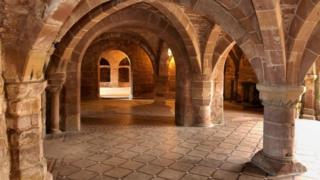 A new museum has opened on the site of a 12th Century monastery.
Established by Augustinian canons, Norton Priory in Runcorn, Cheshire, has become the most excavated monastic site in Europe with about 70,000 artefacts.
The museum replaces an older one after the Heritage Lottery Fund (HLF) contributed £3.9m to the £4.5m cost of the wider development.
Steve Miller, from the HLF, said it told "the story of 900 years of social, political and religious change".
After the monastery's dissolution by Henry VIII in 1536, it became the manor house residence of the Brooke family for 400 years before its demolition in the 1920s.
The previous museum building opened in 1985 following archaeological excavations on the site.
About 34,000 people visit the location every year, which includes a walled garden and ruins.
A new cafe will be mainly staffed by people with disabilities, who work for the Halton Borough Council service Country Gardens Catering.