South East Coast ambulance trust 'merger not ruled out'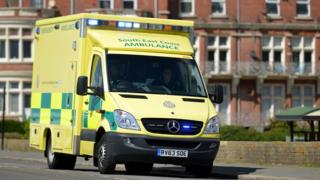 The possibility of a merger between South East Coast Ambulance Service (Secamb) and another trust has been raised at a meeting.
A plan is already in place for Secamb to "learn" from the South Central Ambulance Service which covers Hampshire and the Thames Valley area.
Acting chief executive Geraint Davies told the council of governors the collaboration was not a merger.
But he did not rule it out in the future.
He said: "Let's be very clear, it's not a merger. It's not a takeover, because it's not a merger.
"It's a collaboration and working to understand what we can learn from each other.
"However, who knows what might happen in the future on everything else, but at the moment, it's not a merger."
'Separate accountability'
A Secamb spokesman said the ambulance trust had agreed to "formal, collaborative working" with South Central Ambulance Service.
He said the aim was to support improvements, deliver better outcomes for patients, and share expertise and best practice.
The initial focus would be on areas requiring urgent attention following Secamb's recent CQC inspection, he added.
"Agreed by mutual consent by both organisations' boards, full accountability for all decisions will remain with the two separate unitary statutory boards," he said.