Dog units shared by North Yorkshire, Cleveland and Durham police forces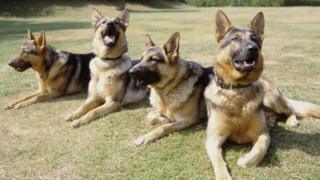 Three neighbouring police forces have merged their dog units into one service.
North Yorkshire Police, Cleveland Police and Durham Constabulary should save £600,000 a year in total, said North Yorkshire Police.
The Cleveland and Durham forces already share a combined dog unit.
Chief Constable for North Yorkshire Police Dave Jones said: "We can deploy more dogs, and work more effectively across a wide geographical area."
There are to be 45 officers in the merged unit and the nearest dog would respond when a crime was reported whichever force it was, said North Yorkshire Police.
There is to be no reduction in the number of dog handlers, the force said.
Mr Jones said: "Our police dogs will be trained in the same way, and will adopt the same operating tactics, across all three police service areas.