Retired clergyman denies 'sinister' Newton Aycliffe sex abuse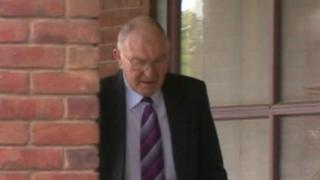 A retired clergyman has gone on trial accused of what was described as the "sinister and deliberate" sex abuse of two men and a boy in the late 70s and early 80s.
Granville Gibson has pleaded not guilty to eight counts of indecent assault and one of serious sexual assault.
Durham Crown Court was told the alleged offences were carried out while he was the minister at St Clare's Church in Newton Aycliffe, County Durham.
The 80-year-old, from Darlington, later went on to become an Archdeacon.
'Veneer of respectability'
The prosecution described his alleged actions as a gross breach of trust, saying he used his position in the church under a "veneer of respectability" to abuse young men in his care or employment.
One witness told the jury that at the age of 18 he had been sent to the church to complete his community service.
At first, Mr Gibson seemed to care for him and the pair engaged in play fighting, but within weeks it had turned into sexual touching and one serious sexual assault, the court was told.
The victim said the actions made him feel sick and he could not believe what was happening.
The prosecution also claimed Mr Gibson targeted a family friend for three years from the age of 12, using a pretence of comforting the boy to sexually assault him.
It is also alleged he indecently assaulted a 26-year-old man who had a junior role at the church, and when he tried to make a complaint to the then Bishop of Durham he was told he was causing trouble and would be better off finding work elsewhere.
The trial continues.