Secamb 111 scandal: Trust plagued by computer crashes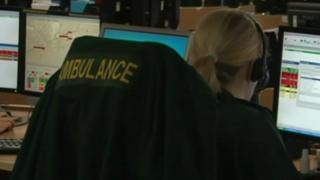 A scandal-hit ambulance trust issued with a warning by the health regulator is being "plagued" with problems in the computer system used to dispatch crews.
South East Coast Ambulance Service NHS Foundation Trust (Secamb) has been under intense scrutiny over its management of NHS 111 calls.
Documents seen by BBC South East reveal its Computer Aided Dispatch (CAD) system regularly crashes.
Secamb said critical issues with CAD were rare and patient impact minimal.
The GMB union said the problems were putting patients' safety at risk.
The trust was ordered by the Care Quality Commission (CQC) on Monday to make improvements to its systems and processes following an inspection in May.
It has until September to address the CQC's immediate concerns, including problems answering NHS 111 calls and the availability of kit.
Many of the "high priority" computer problems - which are among the issues highlighted by the CQC - remain unsolved.
The documents have details of 45 computer failings this year, including:
Crashes while patients are on the phone
Call handlers unable to dispatch ambulance crews
Location maps failing to open on screen
Texts and messages not getting through to crews
---
Analysis: BBC South East health correspondent Mark Norman
If you are a patient at the end of one of these calls where the system failed you might be worried.
The trust rightly points out these failings are rare and that they handle between 800,000 and 900,000 calls a year.
But the documents I have seen appear to show "major" incidents unresolved often months after they occurred.
The documents reveal that Secamb "team leaders" are sending reports to the the system engineers four times a day and providing regular updates to managers on the scale of the problems.
---
GMB regional organiser Gary Palmer said: "Ongoing issues with the computerised display system are serious and yet, although data on failures is recorded for executives, nothing has been done to correct, repair or replace the system.
"Emergency operation centre staff have been forced to revert to pen and paper...after a full system failure.
"They are then forced to call ambulance staff to allocate calls and to communicate triage and patient location information in person."
Secamb said the CAD system was regularly maintained and upgraded to address issues identified by staff.
"We do recognise that system issues can cause frustration for staff but these matters are subject to review by a project group which is looking to further improve the performance of the CAD," it said in a statement.