Ex-soldier jailed for trying to buy guns 'to fight for IS'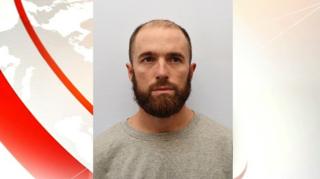 A former British soldier who tried to join the so-called Islamic State has been jailed for 18 years for attempting to buy machine guns and pistols.
Gavin Rae, 36, who converted to Islam in 2012, was brought back to the UK in July 2015 after he was denied entry to Turkey with his wife and children.
He was arrested in a police sting at a hotel four months later for attempting to buy a number of guns.
A judge told Preston Crown Court the evidence was "overwhelming".
Jurors heard the defendant, also known as Yaqub Rae, told an undercover officer he had befriended it would not be long "before Islam will come to the shores of this country".
He said he believed authorities thought he was a "danger to this country" and believed his intentions were to "go and join Isis and do Jihad".
Within a week he told the officer once he had reached a Muslim country he would "sacrifice my life for Allah".
'Shame and regret'
The undercover officer told the defendant he knew someone who could source him weapons.
Rae met the contact - also an undercover operative - at Bicester Village retail park near Oxford and asked him to get more guns.
After cash was exchanged at a further meeting in Crewe, armed police burst in and arrested Rae.
Rae, originally from Preston, was found guilty of possessing a gun with intent to endanger life, attempting to possess ammunition and three counts of encouraging or assisting the commission of an offence.
In a letter to the judge before sentencing, he expressed his "shame and regret".
Jailing him, Mr Justice Sweeney said Rae attempted to buy the guns to enable him to fight abroad "in support of extremist Islamic ideas".
Rae joined the King's Division of the British Army in February 1997 but was discharged 14 months later without going on operations.