Fund to save veterans from crime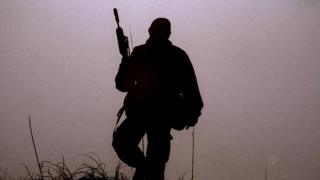 A grant of nearly £300,000 will be used to help steer military veterans "away from criminality".
John Campion, West Mercia Police and Crime Commissioner, said the grant would help veterans "get better help to reintegrate into civilian society".
Part of the Armed Forces Covenant fund cash will provide a helpline service for armed services veterans.
A government report in 2014 estimated 3-7% of prisoners in England and Wales had military backgrounds.
'Downwards spiral'
But the report by MP Stephen Philips for the Secretary of State for Justice, said there was "a great deal of controversy" over the exact number of former service personnel in custody, partly because identifying past occupations was not compulsory.
Veterans in prison
About 3,000 prisoners thought to have military backgrounds
3.5% - 7%
Prisoners believed to have served in the Armed Forces (2010 survey)
77% of veterans in prison had served in the Army

32.9% jailed for violent crimes

24.7% jailed for sexual offences
Press Association
The grant awarded to Mr Campion's Remember Veterans initiative will be used to help people in the West Mercia and Warwickshire Police areas, over two years.
It will help ex-military personnel access training and employment, provide support from peers and a referral and helpline service.
Mr Campion said: "Military personnel dedicate their careers to protecting our country, so it is absolutely right that we show the same dedication to them once they leave the forces."
Warwickshire Police and Crime Commissioner Philip Seccombe, said the project had the potential to "make a very real difference to the lives of our veterans, reducing re-offending and making our communities safer".
"As someone who has spent more than 25 years with the Territorial Army and as the current chairman of the Warwickshire Army Benevolent Fund, I am all too aware of the difficulties servicemen and women can experience in adjusting to civilian life once their military career has ended," he said.
"For some it can be a downwards spiral, leaving them both vulnerable to becoming victims of crime and also to becoming an offender."