Anti-piracy jailed Britons' families petition government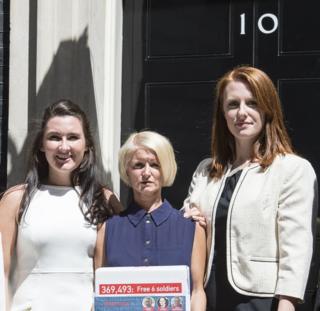 The families of six British men jailed in India have handed in a petition to the British government asking for more action to secure the men's release.
The former soldiers, who were working on an a US anti-piracy ship, deny charges of having unlicensed weapons.
The 350,000-name petition has been submitted on their 1,000th day in detention.
The sister of one of the men, Nick Dunn from Northumberland, said the government had not done enough.
"I'm going down to London today to ensure that the government keep it at the forefront of their agendas and I'm going to tell them that it's not acceptable - we can't let them rot for another four years," Lisa Dunn said.
"The British government need to up the anti and increase their actions and ensure that these men are returned home as quickly as possible.
"We never imagined that it would drag on one day, let alone one thousand."
---
The men are:
Nick Dunn, from Ashington, Northumberland
Billy Irving, from Connel, Argyll
Ray Tindall, from Chester
Paul Towers, from Pocklington, East Riding of Yorkshire
John Armstrong, from Wigton, Cumbria
Nicholas Simpson, from Catterick, North Yorkshire
---
The men were on the MV Seaman Guard Ohio protecting merchant shipping in the Gulf of Aden against Somali pirates when it strayed into Indian waters in 2013.
Charges were quashed then reinstated and they were ultimately convicted in January 2016 and sentenced to five years in jail.
Reverend Canon Ken Peters, from the Mission to Sea Farers, which has helped campaign for the men's release, said there had been "adjournment after adjournment, there have been delays after delays".
"All the time there is human tragedy unfolding... there is huge, huge injustice in the length of time that they have been detained."
John Armstrong's sister, Joanne Thomlinson, said more needed to be done and the families "will not stop fighting until they are home".
"Our petition bears the signatures of more than 350,000 people who recognise what a tragedy and an injustice this is," she said.