"It won't bring back people lost in the bombing": Iraqis react to Chilcot Report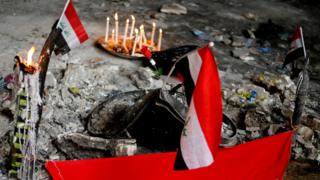 The invasion of Iraq in March 2003 need not have happened when it did says Sir John Chilcot's report into the Iraq War.
What does this mean for people who lived through the crisis which left tens of thousands of Iraqi people dead?
Three Iraqis who contacted BBC News share their views on the invasion and the Chilcot report.
---
"Blair and Bush's legacy is sectarian violence"
Medical student Hasan Ahmad, 22, Baghdad
I am the same age as many of the soldiers who were sent to Iraq. I feel sorry that they were deceived by their government.
Even if Tony Blair did apologise, it wouldn't make a difference.
I have lost relatives, and it won't bring them back. It won't bring back anyone lost in the bombings.
My country's social fabric has been damaged forever, there are two generations of youth who feel there is no future at all.
Sectarian violence is what is left of Blair and Bush's legacy.
I am from a mixed background and I have relatives who are Sunni, Shia and Arab, and we are very open-minded.
I now have a tonne of relatives who went overseas and are now spread out all over the world. We all used to live in the same place when I was young, but now I might never be able to see some of them again.
In Baghdad right now, I don't have the freedom to walk around outside without risking my life - if I criticise politics, I risk my life. We didn't have freedom under Saddam, and we don't have it now.
I don't blame the British or American people for the war. I don't even blame the soldiers who went to fight, they are people just like us who want to live peacefully, in harmony with the international community.
At least politicians in the West have learnt a lesson from what has happened.
---
"My friend burnt to death in a booby-trapped car"
Ali Mahmoud al Muwalli, Baghdad
I was eight years old at the time of the invasion. The invasion and War destroyed my childhood, their consequences are destroying my future.
The war took many friends from me: my friend Barakat was burnt to death in a booby-trapped car; my friend Omar was killed in a sectarian assassination; and then I lost another friend in a roadside bombing as he was submitting his university papers.
I was meant to complete my university education, but, because of the situation here now, I work a simple job and receive menial pay. But I need to do it to support my family.
Most of what the Chilcot report says is already well-known by Iraqis, but its has increased the certainty of the Iraqis that the invasion of the country was irrational and illogical.
In the end, the consequences of the occupation could be like a fire in a forest that devours everything in its course.
I hope this is a lesson to all greedy invaders. And may they all be held accountable for this crime.
---
"I think it is disgraceful to blame Tony Blair for what is now happening in Iraq"
Tariq Aljeburim, who is studying for a PhD in Nottingham, was a 21-year-old engineering student at the University of Babylon when the war began in 2003.
I am really confused and shocked, because I remember when 30 million Iraqis were saying: "Thank you Tony Blair" for helping us get rid of Saddam. Mr Blair should be honoured for his involvement in Iraq.
I don't understand why the British people are blaming him - because there were no weapons of mass destruction? That is not important to the Iraqi people.
For those people who are blaming Blair, have they forgotten that Saddam once killed thousands of Shia Muslims in one week in 1991? Have they forgotten that he killed three villages of Kurds with chemical weapons in 1988?
When Britain invaded, we were scared that Saddam might attack us, the middle and south of Iraq, with chemical weapons.
We were just scared that the Baathists might kill everyone before they left, because Saddam always was saying that if he left Iraq, he would leave it dust.
After Saddam and his gang left, everything was good, we were really grateful for the UK and the US.
I think it is disgraceful to blame Tony Blair for what is happening now in Iraq. The bad situation in Iraq now is not Blair's fault, it's America's fault.
They left Iraq messed up and left it to be ruled by thieves and terrorists. They installed a sectarian government which is bad and terrible, although not at bad as Saddam Hussein.
There are 5,000 Iraqis like me studying in the UK now, paid for by the current Iraqi government, and thousands of others who are able to study in the US.
This wouldn't be possible if Saddam was here.
---
Interviews by Hannah Henderson and Zak Brophy, BBC News UGC and Social News team