North East Ambulance Service offers end-of-life help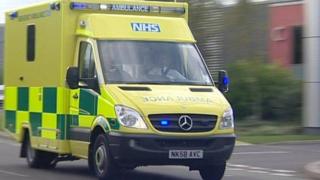 Terminally ill patients across the North East can now access a dedicated ambulance service to take them to their preferred place to die.
North East Ambulance Service's (NEAS) End of Life Transport scheme also helps patients plan where they want to go, such as a hospice, care unit, or home.
A pilot found 80% of users reached their destination in under two hours.
Dedicated ambulances and specialist technicians, trained in end-of-life care, will operate the service.
End of Life Transport is separate from NEAS emergency response provision, which has been criticised for failing to meet 999 response times.
'Minimising stress'
In a statement it said: "Rather than detracting from the frontline, this service actually supports it by reducing the number of last minute calls to 999, which would have resulted in an emergency ambulance and where a patient would have been taken to hospital."
A pilot scheme run from October 2015 to March 2016 was used by 1,037 people, with the majority taken from hospital to their home, and of those collected from home, almost half went to a hospice.
NEAS chief executive, Yvonne Ormston, said: "For those nearing the end of their life, it is incredibly important that they are in a place where they feel comfortable and cared for, surrounded by loved ones.
"We can ensure they receive compassionate and appropriate care, minimising stress for both the patient and their family at a very difficult time."
Macmillan clinical nurse specialist, Tony McCoy, said: "The response times have been much faster with discharge and admission to the preferred place of care, and there have been several examples where the ambulance attendants have gone way beyond what would normally be expected."