Nikki Sinclaire 'left staff to deal with travel expenses'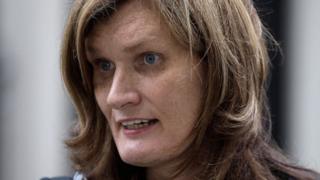 An ex-MEP who denies making fake expense claims would empty a handbag full of receipts and leave them for staff to deal with, she told a jury.
Nikki Sinclaire is accused of claiming for car journeys across Europe, when she flew for less money than claimed.
Expenses were dealt with by staff who knew passwords for her email and credit cards, she told Birmingham Crown Court.
Ms Sinclaire, who was UKIP MEP for the West Midlands until 2014, denies fraud and misconduct in public office.
More on Nikki Sinclaire fraud trial
On several occasions, no claims were filed for a genuine human rights trip to Cyprus, and for travel by her own staff to the European Parliament, the court heard.
'Bit of a burden'
Ms Sinclaire said she had "so many objectives to achieve" politically, she expected her expenses to be dealt with by her office.
The 47-year-old from Solihull accepted she signed-off many of the 10 incorrect claims but said she had not done so dishonestly.
"Submitting these expenses claims was a bit of a burden," Ms Sinclaire told the court.
"It is impossible for me to check absolutely everything."
She also claimed that in at least one of the travel claims she had "concerns" the signature was even hers.
Her evidence came after jurors were told on Friday of an allegation of a "mole" working in her office.
'Not shown ropes'
Ms Sinclaire said she went herself to the EU anti-fraud unit and the police when she realised all was not right with her claims.
The task of dealing with her receipts was left to her UK office administration assistant Paula Murray, or her political aide and later office manager John Ison to deal with, she said.
New MEPs were not shown the ropes of the expenses system, she said, and instead relied on a Brussels "fresher's fair" and a huge bundle of documentation.
Ms Sinclaire denies misconduct in a public office between 1 October 2009 and 31 July 2010, while a serving member of the European Parliament, by making or causing to be made false or dishonest claims for travel expenses.
She also denies fraudulently transferring criminal property into her bank account.
The trial continues.