UKIP's Nigel Farage 'hostile' to ex-MEP Nikki Sinclaire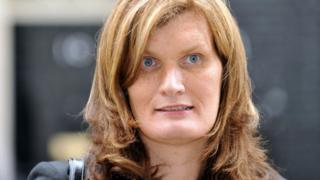 A former UKIP MEP on trial for alleged fraud had a poor relationship with leader Nigel Farage, a former aide told a court.
John Ison said he gave updates about Nikki Sinclaire at least once a week to Mr Farage "to protect the party".
Her defence claims he spied on her to ingratiate himself with UKIP leaders.
Ms Sinclaire, who denies misconduct in public office between 1 October 2009 and 31 July 2010, while a serving MEP, is on trial at Birmingham Crown Court.
She also denies claims that between 14 October 2009 and 31 December 2010 she fraudulently transferred criminal property into her bank account.
'Captured' data
The court heard from barrister Sean Hammond, representing Ms Sinclaire, that there was a "background of hostility" between his client and Mr Farage.
The defence said Mr Ison was treated by Ms Sinclaire as a "confidant" when she was trying to gain entry to the party's national executive committee in 2010, shortly after having lost the party whip.
However, the court was told Mr Ison worked to "undermine" her, then sought to exploit confusion over the European expenses system as a back-up tactic.
Mr Ison denied the claims.
The defence also presented a text from Mr Ison to party colleague Steve Morson from January 2010 claiming to have "captured" data from Ms Sinclaire's laptop, alleging he had hacked her computer and installed spyware to gain information.
During proceedings Mr Ison admitted sending the message to Mr Morson, but used his right not to incriminate himself by declining to answer whether he had breached the Computer Misuse Act,
When asked by Mr Hammond if he was behaving like "a spy or a mole", Mr Ison replied: "If you want to put it that way." He admitted the message "looked very bad" but denied wrongdoing.
Ms Sinclaire, 47, of Shirley in Solihull, was West Midlands MEP until 2014.
She is currently on bail and is expected to give evidence next week. The trial continues.