Copeland MP accuses Corbyn of "unprecedented poison"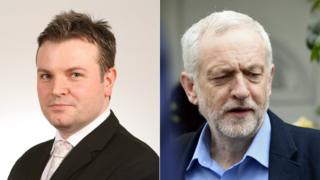 Labour leader Jeremy Corbyn has "sought to inject an unprecedented poison" into his party, one of his MPs has said.
Jamie Reed, MP for Copeland in Cumbria, is among a number urging Mr Corbyn to stand down as leader.
However, the party's MP for South Shields, Emma Lewell-Buck, said in her letter resigning as shadow minister that she was "appalled" at the way Mr Corbyn was being treated.
The Labour Party has been approached for comment.
'Agitated crowd'
More than 40 members of the shadow cabinet resigned after the shadow foreign secretary, Hilary Benn, was sacked on Sunday.
Mr Corbyn has lost a vote of no confidence among Labour MPs by 172 votes to 40.
In an open letter, Mr Reed accused him of hearing some of his MPs "express fears for their safety" before immediately addressing an "agitated crowd with a view to further inciting precisely the kind of discontent you had disowned only minutes earlier".
Ms Lewell-Buck said on Wednesday the party was "shambolic and divided at a critical time" and she had "no option but to step down" from her role as shadow minister for communities and local government.