Ex-UKIP MEP Nikki Sinclaire's expenses 'would not have been paid'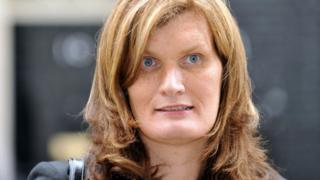 An MEP's expense claims for road journeys she never made would not have been paid if it was known she had travelled more cheaply by plane, a court has been told.
Nikki Sinclaire, West Midlands MEP until 2014, is accused of misconduct in a public office and laundering money.
She submitted "significant" expenses "in excess of flight costs", the prosecution said.
She denies the charges at Birmingham Crown Court.
It is alleged Sinclaire wrongly claimed for thousands of euros in road and ferry travel expenses when she had travelled more cheaply by air.
More updates on this and other stories in Birmingham
The 47-year-old, of Shirley, Solihull, is accused of misconduct in a public office between 1 October 2009 and 31 July 2010 while a serving member of the European Parliament by making or causing to be made false or dishonest claims for travel expenses.
She is further charged between October 14 2009 and December 31 2010 of fraudulently transferring criminal property into her bank account.
Estela Burriel, in charge of the European Parliament members' travel and subsistence expenses unit, told the court there was no evidence of Ms Sinclaire flying.
Prosecuting, Antonie Muller asked Mr Burriel: "If Nikki Sinclaire did not make that car journey at all, this would not have been paid?"
The 56-year-old Spaniard replied: "Certainly not."
The court heard that in six of the 10 allegedly dishonest claims, Sinclaire is said to have flown via Brussels, Basel in Switzerland or Paris Charles de Gaulle Airport despite submitting claims allegedly signed by her stating she had driven.
Elected members can claim for up to 497 miles (800km) of road travel within their home country without submitting any receipts or evidence.
Ms Sinclaire left UKIP in 2010 and served as an independent MEP until losing her seat in the 2014 elections.
The trial continues.