Maternity payouts at Calderdale trust among the highest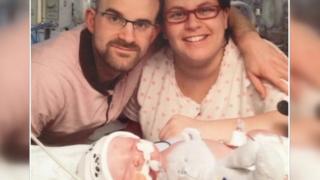 Payouts for maternity care failings at a Yorkshire health trust are among the highest in England, NHS figures show.
In 2014/15 the NHS Litigation Authority paid out £325m in obstetric claims on behalf of 146 trusts nationally.
University Hospitals of Leicester NHS Trust payout was the highest at £10.9m, while Calderdale and Huddersfield NHS Foundation Trust was fourth at £9.3m.
A couple whose baby died at Calderdale Royal Hospital (CRH) said they had been left heartbroken and very angry.
The Department of Health said it was working to improve patient safety and reduce litigation.
A spokesman said it had invested in new safety equipment, including maternal monitoring devices and was improving training for staff.
A breakdown of the figures show the 12 NHS trusts in Yorkshire had a payout total of £31.4m to settle obstetric claims.
2014/15 Compensation amounts in Yorkshire
Calderdale and Huddersfield NHS Foundation Trust
£9,357,422
Leeds Teaching Hospitals NHS Trust
£5,733,156
South Tees Hospitals NHS Foundation Trust (including North Yorkshire's Friarage Hospital)
£4,838,214
Bradford Teaching Hospitals NHS Foundation Trust
£2,981,339
The Mid Yorkshire Hospitals NHS Trust
£2,566,080
Sheffield Teaching Hospitals NHS Foundation Trust
£1,504,498
Barnsley Hospital NHS Foundation Trust
£1,434,332
Doncaster and Bassetlaw Hospitals NHS Foundation Trust
£1,174,878
York Teaching Hospital NHS Foundation Trust
£1,107,071
Rotherham NHS Foundation Trust
£369,235
Harrogate and District NHS Foundation Trust
£219,408
Airedale NHS Foundation Trust
£101,812
Calderdale's was the highest in the region, while Airedale NHS Foundation Trust was the lowest at £101,812.
Sarah Ellis and Adam Asquith's son Gino died three days after being born at CRH in November 2014.
An inquest heard that Ms Ellis had been sent home from the hospital two days prior to her son's birth because there were no free beds.
When she was later admitted, medical staff failed to act on warning signs that her son was in distress and when he was born he was left severely brain damaged.
The trust has admitted liability and is negotiating a settlement with the family's solicitor.
Ms Ellis said: "We went in with our first baby excited, our bags packed, thinking we were coming home with a baby but we came home with nothing."
She added: "It's not about the money. We want people to be held accountable for their actions."
In a statement, the trust said it investigated all cases and was working hard to improve care for mothers.
A spokeswoman for University Hospitals of Leicester NHS Trust said: "Our maternity service is one of the largest in the country, delivering over 10,500 babies a year across three sites.
"Some of the claims settled during the year 2014-15 date back a number of years, so these figures do not necessarily reflect that specific year.
"We try our best to deliver high quality care for all our patients but unfortunately in some cases this doesn't happen."