Brexit: Tears, fears and questions as children react to Leave vote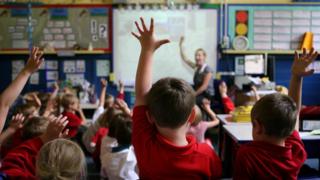 "Do we have to leave home" and what is going to happen to "Joris Bonson"?
It is not just adults and teenagers who have questions in the wake of the UK's historic Brexit vote.
Parents and teachers have been bombarded with queries from interested youngsters and schools have rearranged lessons to discuss the key issues.
On Facebook, Twitter and website Mumsnet, parents have been sharing stories of their confused, tearful or outraged offspring.
Suzanne, from London, said her eight-year-old son Sam's school held a mock referendum and voted for Remain.
But, she added, when the real result came in he put his head in his hands and said "pooey, pooey, bum, bum".
"Maybe there are some boxes of votes that they haven't counted yet?" he suggested hopefully.
EnglishRose1320 said her 10-year-old daughter packed a bag and announced: "I'm moving to Canada, I don't feel a part of the UK anymore."
One nine-year-old asked her parents if they would still be able to go on holiday to Lanzarote.
EU 'like Amazon Prime'
A mother on Facebook said her nine-year-old son George was worried his European friends "would be forced to leave the country and that there might be a war".
But on a more optimistic note, Ronnie Smith-Noble, 10, said his parents had assured him leaving was a good thing because, otherwise, "we'd have to pay more money".
Celine, 9, says there'll be more money for the NHS now.
Andreea Okoye, 10, thinks children should have been given a vote because adults only have to live with the result for "20 or 30 years more". "No offence", she added.
On the Mumsnet forums, KirstyJC said her five-year-old "looked really upset and shocked - then asked if we needed to leave our house".
Daisydalrymple said her nine-year-old was "fairly concerned that Wales might now get kicked out of Euro 2016 before their next game".
But Witchend said her nine-year-old son is "not too worried by it as long as we can still play Euro football".
---
Answer questions
Fiona Pienaar, from children's mental health charity Place2Be, said change can be stressful, but parents should not "completely shield" children from world events.
She said: "Be aware of what they are watching and reading and take the time to carefully answer any questions they may have.
"In answering, try not to overwhelm them with information, but check what it is they want to know and answer in a simple way that addresses their personal anxieties."
---
Cagliostro posted that when her nine-year-old daughter heard the news, she said: "Wait, so David Cameron just quit because he didn't get what he wanted? How silly."
LegArmpits said her Year One son asked if "Joris Bonson would go now?"
Eyebrowsonfleek said: "My nine-year-old compared EU membership fees with Amazon Prime and thought that if you're getting lots of benefits then it's worth it."
Egosumquisum said: "I have explained it a bit like divorce, but the two people still need to work together. And there's no maintenance involved.
"This is historic and I hope it makes [my son] realise that politics affects our lives."
BurnTheBlackSuit said: "Both my primary school aged children wanted to remain... they were mostly informed by Newsround as far as I can tell."
As for nine-year-old Freddie, he's finding school playtime quite boring.
He said: "Everyone's arguing about it, some are saying things are better, some aren't. They're literally talking about nothing else".