Signing up: A Bowie bank holiday and other petitions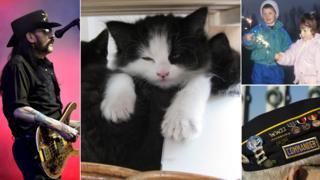 Forget the petition calling for a second EU referendum - rules about retrospective legislation mean it will not work. However, if you still feel the need to sign something, there are a variety of other campaigns you might wish to back.
In fine voice
There are 32 petitions concerned with national anthems. Some argue England should have its own, others want a new one for the UK.
The Ace of Spades by Motorhead, and Ghost Town by The Specials are among the tunes proposed as an English national anthem.
Suggestions for the UK national anthem include David Bowie's Heroes and Victoria Wood's The Ballad of Barry and Freda. The petitioner states "it is quite simply the greatest song ever written" and a much more "jaunty singalong than the current dirge", God Save the Queen.
However, none of these petitions are likely to work. The government has said "this isn't something that the UK government or Parliament would be able to do".
"The use of the present National Anthem is a matter of tradition rather than having any legal or constitutional status."
Sorry, Barry and Freda.
Public holidays
A number of petitions call for new public holidays to be introduced, but so far the government has held firm against granting an extra day off.
The Queen's 90th Birthday, the death of David Bowie, leaving the EU and Bonfire Night have all been cited as reasonable suggestions.
The latter was thought by the petitioner to be a good idea because "it's nicely sandwiched between the August bank holiday and Christmas Day" and "is a night ripe with British history and intrigue".
Six people have signed Barry Haughton's bid to have the August bank holiday renamed "England Day", while nearly 16,000 believe 29 February should be a holiday because "the average salary is £113 per day over 233 working days. In a leap year this rises to 234 working days.
"Therefore, the average salaried employee is losing out on £113 during a leap year as the additional days work is unpaid."
The Department for Business, Innovation and Skills said the cost to the economy would be £1.2bn and pointed out that people paid by the day or the hour would actually be earning more in a leap year.
"The government has no plans to create a public holiday in place of 29 February every leap year", was the firm conclusion.
Undervalued cats
Perhaps unsurprisingly for a nation of animal-lovers, many petitions involve the protection of pets.
While motorists are under a legal obligation to stop and report knocking over a dog, there's no such requirement for cats.
Nearly 1,500 people have signed a petition to give drivers who run over a cat the same obligation.
If multiple petitions about the same issue are received, the first one is accepted and the others rejected and interested parties are told to consider signing the original one.
Nine were submitted about this issue. One rejected petition included the line that "cats are undervalued in today's society" and another insists street cleaners should have to take dead cats to a vet for identification.
Stolen valour
Nearly 12,000 people were concerned about people pretending to be serving soldiers or veterans.
The petition claims: "It is getting common these days for civilians and other people to impersonate soldiers and marines and/or wear medals and awards they are not entitled to wear.
"This causes great distress to many veterans and families."
In the US there's a Stolen Valor Act. Originally brought in in 2003, it banned anyone from pretending they'd been honoured but was amended in 2013 following a challenge under freedom of speech legislation.
So now, it's not illegal to lie about having a medal - but it is illegal to obtain any tangible benefit from pretending to have one.
In the UK, the Ministry of Defence replied to the petition by pointing out that the Fraud Act 2006 bans people from making a financial gain by fraudulently wearing uniforms or medals.
It is also an offence against The Uniforms Act 1894 for any person not serving in the Armed Forces to wear the uniform.
Keep cash
Nearly 11,000 people were worried the Bank of England might decide to abolish cash, after its chief economist Andrew Haldane raised the issue.
He made the comments when talking about the possibility of negative interest rates.
HM Treasury's response to the petition? "There are no plans to abolish cash from use in the UK.
"Andrew Haldane's comments were focused on medium term questions for the future of central banks such as the Bank of England and not on an immediate policy decision.
"He made no mention of the desire or intention to "abolish the use of cash", but did consider, hypothetically, the case for the central bank issuing digital cash, either alongside or instead of physical cash".
Catapulted into action
Until a petition gets 10,000 backers the government is under no obligation to respond. John Frederick Norrish has a fair old way to go, as so far 85 people have signed his submission.
"My sons' cat was shot by a youth with a catapult.
"I am requesting the prime minister classify catapults as offensive weapons with appropriate punishment for offenders.
"Catapults should only be sold to responsible adults, not people under the age of 18."
E-petitions
So far, 10,738 petitions have been registered on the parliamentary website. Those attracting 10,000 signatories will receive a response from the government. That number is currently 234. Of those, 27 have been debated in the House of Commons.
Many more petitions are rejected than accepted. This happens if they fail to meet petition standards, which include those about purely personal issues, ones which contain offensive language, and advertising.