Tour de Yorkshire boosts economy by £60m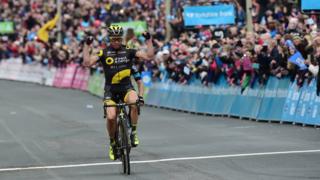 The 2016 Tour de Yorkshire boosted the region's economy by nearly £60m, a study has found.
Welcome to Yorkshire said two million people lined the route of the 521km cycle race, between 29 April and 1 May.
Beverley, Settle, Otley, Doncaster, Middlesbrough and Scarborough all hosted starts or finishes.
Leeds Beckett University carried out the economic impact study based on information gathered from 1,000 people at the race and online.
Welcome to Yorkshire said total spend was up 20% from £50m, to nearly £60m in 2015.
The amount spent on accommodation totalled £26m - up 28% on 2015 figures - and £33m was spent on non-accommodation items including food, drink, transport and souvenirs, a 12% increase on 2015 figures, it found.
Sir Gary Verity of Welcome to Yorkshire said it was "tremendous" news for Yorkshire.
"Even in the face of some not-so-welcoming weather, these statistics show that the Tour de Yorkshire is rapidly going from strength to strength," he said.
"The people of Yorkshire have really taken the Tour de Yorkshire to their hearts and already we can't wait for next year."
Tour de France boss Christian Prudhomme earlier this year described Yorkshire as "fast becoming the heartland of cycling".
Figures found the majority of spectators were from Yorkshire while 21% were from elsewhere in the UK and abroad.
Global TV viewing figures nearly doubled compared to 2015, with 11.4m viewers watching across 178 countries.
Start and finish locations confirmed for next year's race are Fox Valley in Sheffield, Halifax, Harrogate and Selby.
In June, Wakefield Council said it would consider bidding to host the 2017 race, despite warnings it could lose the authority up to £475,000.