Connor Sparrowhawk death: Memorial concert for drowned teenager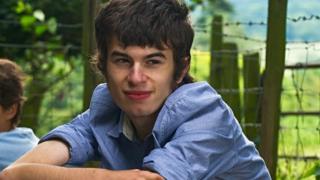 A memorial concert has been held for a teenager who drowned in a bath at an NHS facility.
Connor Sparrowhawk, 18, died after having an epileptic fit when he was being treated at Slade House in Oxford in July 2013.
Southern Health NHS Foundation Trust later accepted full responsibility.
The concert took place at Warwick Arts Centre where a huge quilt made up of designs and tributes about Connor is also on show.
Connor was known as Laughing Boy (LB) to family and friends.
A spokesperson for the Justice for LB campaign group called the event an "amazing community art project and a music project come together" to honour his life and mourn his death.
"While the focus is on Connor and his family, we also want to draw attention to the widespread violation of the rights of many other people with learning disabilities in this country and elsewhere," they said.
The artwork was made in Coventry with segments contributed from around the world by supporters of his family who wanted to find out the truth about the circumstances of his death.
The free concert featured the Warwick Chamber Choir and members of the Warwick Chorus performing Michael Tippett's A Child of our Time.
Earlier this month Southern Health admitted it "caused" the death of Connor and offered his family £80,000 compensation.
In a statement, the trust admitted it had "violated Connor's right to life" under the European Convention on Human Rights.
The trust, which provides mental health services for large parts of the south of England, has been heavily criticised by the teenager's family and NHS England.
A jury-led inquest in October found that "failings" by trust staff contributed to Connor's death.