Police stop illegal raves in the Bristol and Bath area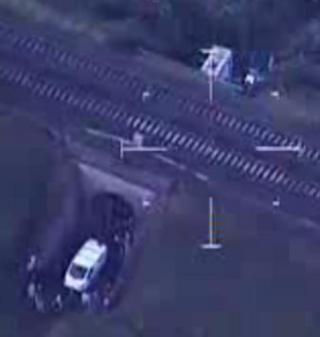 An illegal rave involving 200 people under the Bristol-Bath main railway line was broken up by police.
The gathering on Saturday night saw revellers party near Newton-St-Loe in a cutting underneath the train line, with some people straying onto the train tracks.
Avon and Somerset Police said they secured the site at 05:00 BST and had it cleared by 06:00.
A second rave of 60 people took place in Nupdown in Oldbury-on-Severn.
The smaller gathering, which had been publicised on social media, was cleared by 05:10 BST, police said.
Police seized the sound equipment from both gatherings and closure notices were served on both organisers.
Supt Chris Weingold said: "It is always challenging to manage large numbers of people in the dark, in the rain and in the mud especially near railway lines or close to the seashore but on this occasion we were able to act swiftly on the information provided by residents, to stop the disturbance promptly."
He added that due to large numbers of police officers being deployed to Glastonbury Festival, his officers worked with British Transport Police to clear the site at Newton-St-Loe.
Police were alerted to both events by local residents.