EU vote cast in car as Dawley poll station shut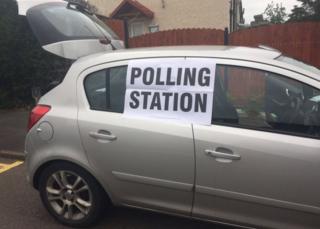 A car became a makeshift polling station after voters found themselves locked out of the youth club assigned for the EU referendum.
Voters leaned into the boot of the Vauxhall Corsa to put their cross in the box outside Webb Youth Club in Dawley, Telford.
Keyholder Claire Bailey said there had been a mix up over the opening time.
Presiding officer Deborah Marks told Telford Live voters were "lovely and understanding".
She said about 10 people used the car to cast their votes.
Telford & Wrekin Council said the building eventually opened at 07:25.