Brighton IRA bomb: 'Victims mattered more than asbestos'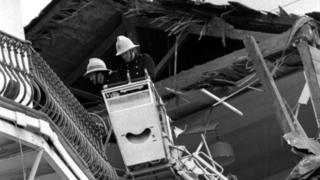 Rescuers who went to the 1984 IRA bomb blast in Brighton were more concerned with rescuing victims than their own safety, an ex-firefighter has said.
Fred Bishop was among the 999 crews who attended the Grand Hotel blast during a Conservative party conference.
He spoke after an asbestos alert was issued to trace emergency workers who joined the rescue operation.
The alert relates to the December death of a police officer from an asbestos-related disease, Sussex Police said.
Mr Bishop, 74, was a station officer at Brighton's Preston Circus fire station at the time of the 12 October blast, which killed five people and injured 34.
The intended targets were the then prime minister Margaret Thatcher and her Tory Cabinet, who were staying at the hotel.
Mr Bishop said: "Dust and the debris was everywhere. It was across the seafront.
"Everybody in that area would have been breathing that sort of dust.
"But, quite frankly, it never really occurred to us. We were more concerned with rescuing those who were involved and trapped in the debris."
Supt Steve Curry, from Sussex Police, said the force had written to 28 former police officers, 14 West Sussex firefighters and 70 East Sussex firefighters.
He said: "We expect that number to increase as we trace more personnel."
South East Coast Ambulance Service is also sending out letters.
Graham Dring, chairman of the Asbestos Victims Support Groups' Forum UK, said a similar link was made after the IRA bomb in Manchester.
He said a security guard died of mesothelioma after the blast at the Arndale Centre in 1996.
"The important point is there is asbestos still out there in a lot of our public buildings, including schools and some hospitals," he said.
He said any building damage could put people at risk if asbestos was present.
Sussex Police is tracing people who could have been exposed and sending them health information and a letter to give to their GP.
Mr Dring said it was important for GPs to have the information on file in case symptoms developed in the future, a process that could take more than 35 years.