Southern trains facing disruption after 24-hour strike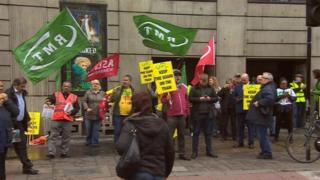 Rail passengers are still facing disruption on some Southern services following a 24-hour strike which saw nearly 900 trains cancelled.
The company said train crew shortages and trains out of normal positions were causing delays and cancellations.
RMT union members walked out over the introduction of driver-only trains and a change in the role of conductors.
More than 10,000 people have signed a petition calling for Southern's owner Govia to be stripped of the contract.
Govia Thameslink Railway (GTR) took over the franchise in July 2015.
Southern said it was running a normal timetable on Wednesday, but some services would have fewer carriages.
However, passengers still frustrated by the ongoing disruption took to social media to complain.
Ben Barden tweeted: "What a joke. Today's train cancelled due to lack of crew. Which day was the #southernstrike again @SouthernRailUK ??".
Others noted how their trains were "more reliable" during the 24-hour walkout.
Sue G said: "It's no joke - yesterday's strike service from @SouthernRailUK was more useful for me than their 'normal' service", while Will Gregg tweeted: "Southern trains were more reliable on strike day. Shows the union isn't the problem it's Southern's own managers!"
Tuesday's day of action was the third strike by members of the RMT union, who are calling on the operator to put "safety before profits".
General secretary Mick Cash said: "When Southern talk about 'changing the role of the guard' what they really mean is axing the guards all together as they put their profits above public safety.
"Our message to passengers is that our fight is your fight and that the battle for our jobs today is to protect your safety tomorrow."
GTR chief operating officer Dyan Crowther said the RMT's concerns were groundless: "No-one's going to lose their job. No-one's going to lose any pay.
"This is about improving the service for customers, improving the reliability of our train service, introducing a safe method of operation."
Southern plans to impose the changes from August.