A soggy start to the summer leads to wet weather jokes online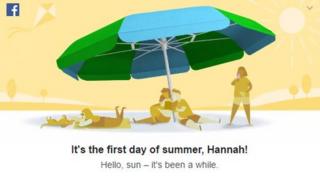 The British are known around the world for being passionate about talking about the weather, and a soggy start to the first day of summer for some parts has prompted thousands to share their wet weather pictures online.
As crowds gathered at Stonehenge to celebrate the longest day and shortest night, the hashtag #summersolstice quickly became the top trend in the UK, with some 14,000 tweets being shared to make jokes about the miserable morning.
A post released by Facebook on to UK users' timelines, suggesting people say: "Hello, Sun," to mark the first day of summer, was met with widespread sarcasm.
Some users suggested Travis hit Why Does It Always Rain On Me? was the perfect song to start off the summer.
Others found Gifs of a soaking wet David Tennant as Doctor Who were the best way to express their frustration.
While education blogger and teacher Ross McGill suggested that perhaps the weather had not installed properly.
Manchester City Football Club joined in the jokes, sharing a Gif of their players complaining about the wet weather.
In Scotland, the weather was good, prompting some good-natured boasting online.
And Leeds Castle in Kent was quick to share this photo by visitor Stephanie Cole, to point out that not everyone disliked the wet start to the day.