Southern rail conductor says sickness is "genuine"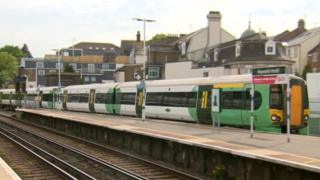 A Southern rail conductor has countered claims that he and his colleagues are failing to turn up for work as a form of unofficial strike action.
Southern managers are embroiled in a bitter dispute with the RMT union and have said services have been cancelled due to a sudden increase in sick leave.
The RMT says it has evidence of 33 trains cancelled when staff were available and ready to work.
Southern said sickness among train drivers had risen at certain depots.
Analysis: Britain's biggest rail franchise in chaos
Speaking on condition of anonymity, the conductor said his sickness was for "a genuine reason".
He told BBC South East that if the sickness rate had gone up, it was due to the "initial impact of the consequences" of the strike action.
"The levels they're talking about does not affect the cancellation of trains... they relied on people working rest days previously and now because people are not working rest days then that's why they're cancelling trains," he said.
The union is in dispute with Southern over the introduction of driver-only trains on which guards will no longer operate doors.
Before the first strike on 26 April, Southern said an average of 23 of its 470 conductors across its network were off sick each day.
In May that rose to 40, with an average of 83 trains a day being cancelled due to sickness, it said.
In a statement, Southern said an unwillingness by drivers to work overtime was compromising a full service.
The RMT said it had evidence 33 trains were cancelled because of issues such as engineering works, rolling stock failure or unavailability.
They included a Littlehampton to Portsmouth service cancelled with a full crew, and a service cancelled in the Hastings area because of a broken down train, which was blamed on conductor illness.
Commuters using the London to Brighton rail service staged a protest on Tuesday night, ahead of further strike action planned for 21 June.