Ex-head teacher Jack Mount's sex abuse trials halted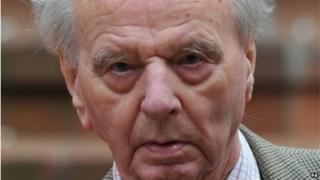 Legal proceedings against a 97-year-old ex-head teacher accused of historical child sex offences have been halted because of his ill health.
Jack Mount had denied 50 offences alleged to have taken place in Shropshire from 1954 to 1979.
He had been cleared by a jury previously of some charges and in a further trial a jury failed to reach a verdict on other charges.
Mr Mount, now of South Molton, Devon, was one of the UK's oldest defendants.
During the trials, Mr Mount, former head of the private Brookside School in Shropshire, had been cleared of charges relating to three complainants.
Poor health
However, Judge Geoffrey Mercer QC dismissed the jury in the second trial after they failed to agree a verdict on a number of other charges.
He then ruled that a third trial the Crown Prosecution Service (CPS) intended to proceed with would not go ahead, because of Mr Mount's health.
Mr Mount suffers from Parkinson's disease, is visually impaired and uses hearing aids.
In a statement, the father-of-five said he was "delighted" proceedings had been halted, describing it as "difficult and trying process".
The CPS confirmed it had received a file of evidence about the case from West Mercia Police, in 2014.
"Due to Mr Mount's health, a judge made a ruling that the case must be split into a series of relatively short trials," it said in a statement.
"[Following the trials] the CPS indicated to the court that it intended to proceed with a third trial as well as seeking a re-trial on the charges on which the jury were unable to reach verdicts in the second trial; and to combine this with new charges involving other complainants."
But Judge Mercer's ruling at Exeter Crown Court has brought proceedings against Mr Mount to a close.
Mr Mount was acquitted of 11 charges against him following two trials at Barnstaple Crown Court, lasting five weeks each, this year.
During his first trial, the court sat for two to three sessions of 45 minutes and he had an intermediary to assist him. Cue cards were used to signal when Mr Mount required a break, or could not hear proceedings.
By his second trial, Mr Mount's condition had deteriorated and the court was unable to sit for more than two 30-minute sessions per day.
Judge Mercer said: "I am fully conscious of the complainants' position but after two trials and having observed the defendant's condition and its decline during the period of those trials I am quite clear that is the position we have reached."