Motorist caught committing 'indecent act' in police crackdown on driving offences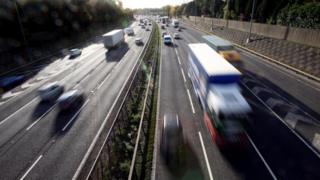 A motorway driver was caught committing an "indecent act" behind the wheel while another was spotted reading a novel during a police crackdown.
Thames Valley Police and Hampshire Constabulary stopped 187 motorists between 6 June and 10 June.
The operation saw police vehicles patrolling motorways in Hampshire, Oxfordshire, Berkshire and Buckinghamshire.
Police said many of the drivers were fined or received penalty points.
In total the crackdown, called Operation Tramline, found:
147 drivers using mobiles phones, most of whom were texting or looking at screens
20 of these were driving heavy goods vehicles
18 drivers were not in proper control for other reasons, including one who was reading a novel on the M271
Six were not wearing seatbelts and eight were driving "carelessly"
One person was seen committing an "indecent act" as they drove at speed in a BMW on the M40
Sergeant Paul Diamond said: "Most of the offenders are not horrible criminals, they are often kind and decent people.
"But they just don't realise the consequences of their actions not just to the victims but on their own lives and to the security of their jobs and family."
The penalty for using a mobile phone while driving is a £100 fine and three penalty points.
The operation was carried out on the M27, M3, A34, M40, M4, M275 and M271.